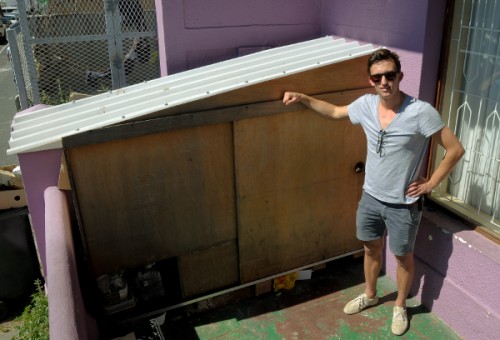 Above is our friend Luke, featured in an article about how he came to design and build a home for his homeless neighbor, Sina. The purple house in the background is where we were staying until yesterday. Here's my favourite part of the article:
"The most interesting thing for me was that a lot of the neighbours that know her (Sina), throughout the next few days as they walked by and saw the house, started crying, and they were very emotional because they realised what it meant to her, and they felt like she had gotten dignity out of it. We didn't plan for that," says Pedersen.
***
Här ser ni vår vän och möbeldesigner Luke. Han står bredvid det lilla hem som han special designat och byggt åt sin hemlösa granne, Sina. Fram tills igår bodde vi i detta lilafärgade huset och fick lära känna Sina lite grann.
Luke var nyligen med i en intervju där han berättar om hur bygget gick till. Mitt favoritavsnitt i artikeln är då Luke beskriver hur förvånad han var över att se flera av Sinas vänner börja gråta när de för första gången fick se hennes nya hem. Luke menar att detta berodde på att hennes vänner förstod hur mycket det nya hemmet betydde för Sina och den värdighet det har gett henne. Istället för att sova otryggt på gatan sover nu Sina i en specialdesignad låda.