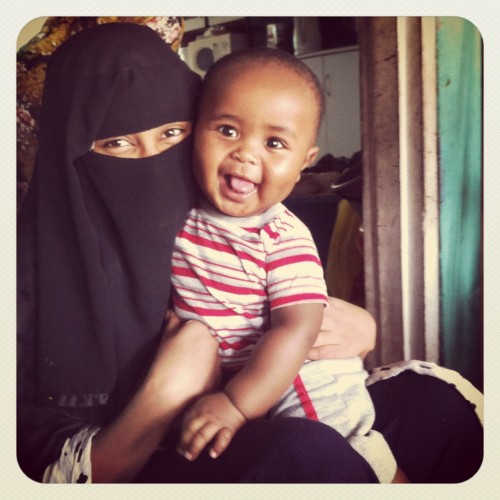 Today is Human Rights Day which is a public holiday in South Africa. This day my mind goes straight to the refugees we know in Masiphumelele and especially our friends from Somalia. We met them 2008 when a friend had given them shelter, as the xenophobia was particularly bad here in South Africa and refugees from other African countries were violently chased out from the townships by mobs claiming they'd come to 'take their jobs and their women'. The Somalians we know are very good at starting up local businesses and face a lot of jealousy because of their success. They're now back in Masi, but live in fear as they frequently hear stories of their countrymen being shot or stabbed to death. The UN has agreed it's too dangerous for them to stay in South Africa and are in the process of helping them leave the country.
This family is one of the most hospitable families we know in Masi, every time we visit they serve us food or drinks, as we sit around exchanging stories with them. We love their friendship and keep praying for their safety and that they'll eventually have a safe place to call home.
* * *
Idag är det röd dag i almanackan för att fira Human Rights Day / Mänskliga Rättigheters Dag i Sydafrika. Mina tankar går till våra Somiliska vänner från Masiphumelele som vi lärde känna 2008. En bekant i All Nations hade denna familjen inneboende hos sig under några veckors tid 2008, i väntan på att de främlingsfientliga våldsamheterna, som spritt sig som en löpeld i flera av landets kåkstäder, skulle lugna ner sig. De är nu tillbaka i Masi men lever i ständig rädsla för vad som kan hända härnäst. Men jämna mellanrum berättar de för oss om vänner till dem har blivit skjutna eller knivhuggna till döds. De somalier vi har lärt känna har varit snabba på att starta upp småföretag, som kiosker eller mindre mataffärer i kåkstäderna, vilket tyvärr har lett till stor avundsjuka bland lokalborna. FN har beslutat att det inte är tillräckligt tryggt för dem att bo kvar i Sydafrika och försöker nu hjälpa dem få asly i ett annat land.
Detta är en av de mest gästvänliga familjer vi lärt känna i Masi – varje gång vi hälsar på dem ger de oss mat och dricka medan vi umgås och tar del av varandras livsberättelser. Vi tycker så mycket om dessa vänner och ber att de ska få ett nytt hem och en trygg plats att bo på.