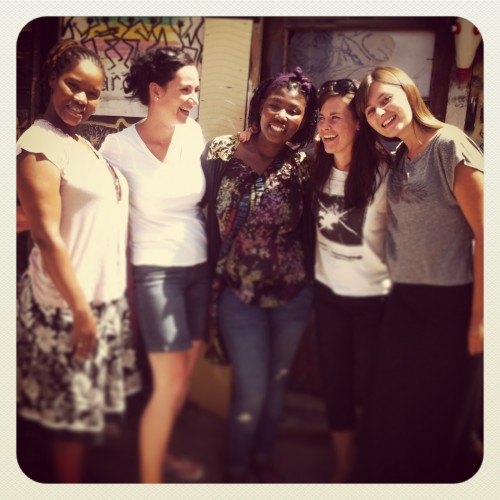 Här har ni den delen av vårt Baby Safe team som jobbar i Masiphumelele (den andra halvan är i Ocean View). Varje torsdag har vi teammöte och denna torsdag stod det något särskilt spännande på dagordningen:
I oktober förra året hörde en kvinna från Masi av sig till oss. Hon hade sett en död bebis, slängd bland soporna, i utkanten av Masi (Wetlands), och var mycket illa berörd. Med stort hjärta och engagemang vill hon nu hjälpa att nå ut till fler gravida kvinnor, de som vi i dagsläget inte når, fram för allt i området som kallas Wetlands. Vi har länge vetat att detta område är särskilt utsatt och att vi inte lyckats nå kvinnorna där så väl som vi velat. P.g.a den grova brottsligheten har vi inte kunnat röra oss tryggt och obehindrat i detta område och vi har insett att vi (av många olika anledningar) behöver fler från Masi i teamet som kan hjälpa till. Hennes tips; flygblad med fokus på gratis kaffe och kakor!
Den 22e Februari drar vi igång den första föreläsningen/workshopen i Masiphumelele Community Hall och hoppas få kontakt med kvinnorna från Wetlands.
Länge har vi hållit utkik efter, längtat och bett efter att hitta fler eldsjälar från Masiphumelele och här är hon nu! Att hon dessutom kom och sökte upp oss hör inte till vanligheterna, oftast är det tvärt om. Ett klockrent bönesvar! Nu blir det spännande 🙂 Watch this space!
* * *
Here's the part of the Baby Safe team that work in Masiphumelele (Masi), the other half is in Ocean View. We have team meetings every Thursday and this week we're planning something really exciting:
In October, last year, a woman from Masi made contact with us. She'd seen a dead baby amongst the rubbish in the outskirts of Masi, called the Wetlands. She was horrified and wanted to find a way to work against this. She's eager to help Baby Safe to try and reach the women that we're currently not reaching, focusing on the Wetlands. We've known for some time that this area has great need and women who might not have heard about our services, but because of the level of crime it's felt too dangerous to walk around there and we really wanted a local to lead the way. Her advice: coffee, cake and flyers to attract them!
So on the 22nd of February we'll kick off our workshop at the Masiphumelele Community Hall with the hope to reach pregnant women & new mothers in the Wetlands!
For a long time we've prayed and looked out for more enthusiastic Masi locals to join us in the Baby Safe. And here she was, approaching us, a real exciting answer to prayer!