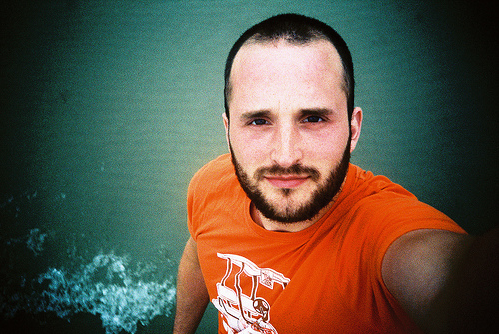 Last Wednesday we went to hear Kevin Meredith, AKA Lomokev, at the Third Floor Gallery in Cardiff Bay.
He spoke about the intriguing journey he has been on with photography. He began in the early '90s as a photographer at rave nights in London, paid £50 a night to take shots of happy clubbers. After discovering the Lomo LC-A camera later in the 90s, he quickly became well known in the Lomographic world, competing at National and International Lomo Championships, where his quick-fire improvisational photo taking excelled.
Meredith joined Flickr soon after it's 2004 launch and, thanks to a strong and varied back catalogue of photos at his disposal, gained swift notoriety, with one of his photos (of Imogen Heap riding a bike) appearing on the front page of Flickr.
All of his Flickr exposure (pardon the pun) has taken him in a variety of interesting directions: publishing books, working at Phoot Camp, being featured in The Times, and addressing staff at Google HQ.
In spite of his achievements, he seemed very down to earth and really gave me fresh inspiration and appreciation for the fun that can be had with a camera.
(Photo: Kevin Meredith, for more visit his Flickr page)