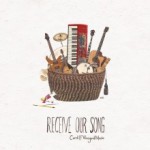 Our friends at Cardiff Vineyard have released a new EP of worship music!
Receive Our Song documents the songwriting and worship in their community over the past few years.
Here's a little video intro to the project:

As if that wasn't enough to get you placing your order, they've decided that 50% of all profits from the sale of the EP will go towards the work of Baby Safe!