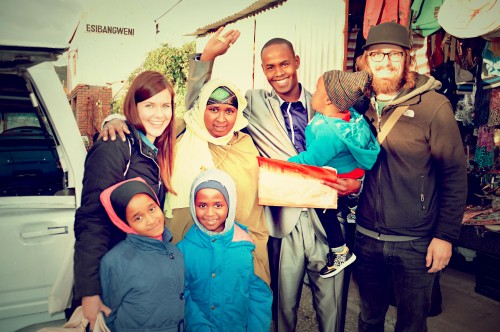 So I realised we didn't give you the full update of what happened to the Somalian family that we wrote about a while back. In 2008 there was xenophobic violence in Masiphumelele, and elsewhere in SA, that saw many Somalians and Ethiopians temporarily flee the townships. Our friends stayed with a couple in All Nations, with whom they became great friends. As a result of the violence, the UN decided that it was too dangerous for them to remain in Masiphumelele and helped them to secure asylum in the US.
In July this year they were finally approved asylum. They were nervous as they didn't know where in the states they'd be placed. They knew they would be leaving family and friends who they may never see again. We all prayed that they would be placed somewhere where we would have friends to connect them with. Their friends from 2008 are now back in the states and kindly offered to fly to see them wherever they were placed.
Amazingly they ended up actually being placed in the same city, just 5 minutes away from this family! When we heard the news, none of us could really believe it! I remember Abdullaai (husband of the family) phoning us shouting with joy 'It's amazing, God is good! God is good!'
This is indeed good news!
* * *
För ett tag sedan skrev vi ett inlägg (klicka här för att läsa igen!). om våra vänner från Somalia och jag insåg precis att vi inte berättade för er hur det gick för dem tillslut. En bekant i All Nations hade denna familjen inneboende hos sig under några veckors tid 2008, i väntan på att de främlingsfientliga våldsamheterna, som spritt sig som en löpeld i flera av landets kåkstäder, skulle lugna ner sig. FN har beslutat att det inte är tillräckligt tryggt för dem att bo kvar i Sydafrikas kåkstäder och har försökt hjälpa dem få asyl i ett annat land.
I juli detta året fick de äntligen besked om att de fått uppehållstillstånd i USA! De var såklart överlyckliga men samtidigt nervösa och ledsna då de en en gång flyttar till ett främmande land och måste lämna nära familjemedlemmar som de kanske aldrig kommer träffa igen. Tillsammans bad vi att de skulle få bli placerade i en stad där vi känner någon som de kan lära känna och känna sig trygga med. Familjen de var inneboende hos 2008 har flyttat tillbaka till USA och lovade att flyga och välkomna dem, oavsett vilken stat de blev placerade i, för att se till att de blir väl bemötta och omhändertagna.
Otroligt nog blev våra vänner placerade i samma stad som denna familj, bara 5 minuter ifrån deras hus! Ingen av oss kunde riktigt tro att det var sant! Jag minns hur Abdullaai, maken i familjen, ringde oss så fort de fått beskedet och tjöt av glädje: 'It's amazing! God is good! God is good!'