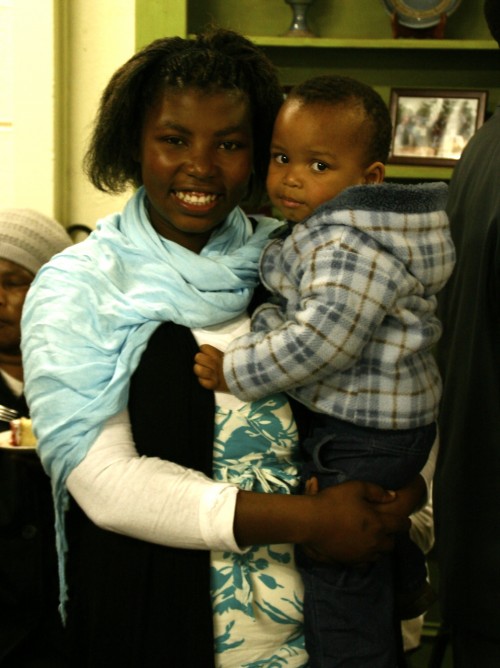 Today we celebrate the National Women's Day here in South Africa. We're constantly impressed by the strong and courageous women we meet every day through the Baby Safe, especially in Masiphumelele and Ocean View, where life for many women is filled with hardship. We're so privileged to work alongside these women and their children for justice and improved life conditions.
One amazing South African woman we've gotten to know is Nosiviwe Sokaya. Viwe, as we call her, is a single mum to Oyisa (in xhosa his name means "to overcome") from Masiphumelele and an excellent co-worker of the Baby Safe Team. She's got a passion to support women in her community and is hoping to one day become a social worker. Would you like to contribute towards her degree or for Baby Safe to continue to pay her a salary?
***
Idag firar vi Nationella Kvinnodagen här i Sydafrika. Varje dag imponeras vi av de starka och modiga kvinnor vi möter genom Baby Safe, fram för allt i Masiphumelele och Ocean View, där kvinnors liv kan präglas av en mängd svårigheter. Det är ett rent privilegium att få arbeta sida vid sida med dessa kvinnor och deras barn och tillsammans arbeta för rättvisa och förbättrade levnadsvillkor.
En fantastisk Sydafrikansk kvinna vi lärt känna är Nosiviwe Sokaya. Viwe, som vi kallar henne, är  ensamstående mamma till Oyisa (= att övervinna)från Masiphumelele och en utmärkt medarbetare i Baby Safe. Hon drömmer om att bli socionom så att hon kan bättre stötta kvinnorna i Masi. Baby Safe försöker därför samla in pengar till att sponsra Viwes socionomutbildning samt till att kunna fortsätta betala ut lön till henne. Vill du vara med och hjälpa oss att sponsra henne?